Marketing automation has significantly grown over the years. Statistics show that over half of the companies benefit from using marketing automation to boost their revenue. Top marketers agree that marketing automation is integral for a business to succeed. Automation helps your business find new opportunities, boost productivity, increase sales and improve communication. Moreover, when marketing automation and CRM combine, the results are massive. 
What is Marketing Automation? 
Marketing automation uses algorithms and software which perform the tasks done by a human. It takes on the tasks with increased efficiency and accuracy compared to an employee. It possesses the ability to take on anything from email marketing to lead nurturing. When used right, automation makes businesses more responsive to prospects, which results in more leads and conversions. 
Is Marketing automation good for your business?
Whether it is a small business or a massive organization, automating marketing will benefit a business of any size. Automation is the new normal, which significantly helps scale your sales and revolutionize your marketing tactics. Some firms still hold on to a belief that old-school tactics work the best. However, there is a lack of evidence to confirm that. 
On the other side, some studies back the claim that marketing automation is suitable for your business. For instance, according to Forbes, over 82% of companies agree that automating marketing made them more efficient. Investing in marketing automation is a wise decision that will benefit your business immensely in terms of sales, revenue, and productivity.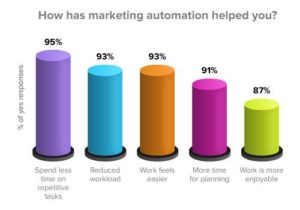 Many business owners have responded positively after marketing automation, as seen in the graph above. 
Ways marketing automation can boost your revenue.
1) Increased customer retention
The cost of retaining an existing customer is relatively low than acquiring a new customer. Marketing automation tools like CRM will help you keep up with customer concerns and effectively manage them. Launching campaigns like abandoned and win-back carts will be immense to retain customers. Marketing automation will also help you provide better quality, and enhance their trust. 
According to research by Harvard, retaining even 5% of customers can boost profit by 95%! Therefore, it is essential to keep existing customers satisfied along with acquiring new ones. 
2) Nurturing and segmenting leads
Marketing automation allows you to see which part of the sales funnel the prospects are mostly. It will help you segment the leads accordingly. Lead segmentation is a crucial step to effective sales outreach since it enables you to prepare targeted content for each prospect. 
Commonly, there are three stages you can divide your leads into. At first, is the awareness stage, where a customer is targeted with email campaigns regarding your product. Second is the consideration stage, where a prospect is targeted with content that focuses on the sales. And at last, we have the decision stage where the customer is ready to buy. 
Marketing automation will engage and nurture the prospect seamlessly, which will allow a better conversion rate. 
3) Personalized website 
When a lead visits your website, they already have the impression of your company. Using marketing automation, each visitor gets to experience a different landing page. The system benefits from the user data that includes their likes and behavior. It helps experience each user an entirely different targeted content. 
Personalized web pages help a business create a better and personal experience with a prospect. It ensures that the user experience with the company is ideal, which will help boost revenue in the long term. 
4) Collection of data for effective marketing tactics
Not every business can extract data and use it for effective marketing. But with marketing automation, they don't have to know that. The system facilitates a better understanding of the data and uses AI to make things work. 
In addition to collecting relevant data and preparing marketing campaigns, it also helps monitor them. It shows which strategies are working and what needs to be improved. The implementation of automation will make things easy for your marketing team. 
Your sales team can also benefit from this technology. Since, to ensure a better conversion rate, it is mandatory to provide the sales team with the information they need. Marketing automation combined with a CRM will capture each interaction with a candidate. It leads to better communication, effectiveness, and productivity among the sales team. 
5) Help businesses to test and optimize 
One of the reasons for marketing automation is to allow a business to test and optimize its approaches. With the ability to experiment, companies can stay ahead of their competitors. The marketing team would experiment with different campaigns since they know which message resonates the best with each prospect. 
The automation software will offer them ample data to test new ideas and implement new strategies. Not only will the company save time and money, but it can also become a business leader in the industry. 
6) Tracking results and ROI
Doing the same thing over and over won't cut it in today's digital world. Marketers need to track the ROI continuously to see if they are getting the expected results. Perhaps an ideal ROI would be 5x, which means your business is making five times the initial amount you invested. 
By being able to capture these results, you will be able to know which program yields the best results. Keep the ones that work for you while getting rid of ineffective ones. 
Final thoughts
It is necessary to use any opportunity to increase efficiency in your business. Automation is now key to reducing costs, increasing conversions, and scaling your business. The best thing about it is that it can adhere needs of a company of any size.