7 Ways You Can Save Money On Business Startup Costs
In a startup, every penny counts. You may have heard a disturbing statistic that nine out of ten startups fail, and one of the top reasons is running out of capital. Wise entrepreneurs work hard on cutting down the startup cost and saving money. 
To help you avoid pitfalls, we have tailored X ways to save money on business startup costs.
1) Run a virtual office
Working in a mobile office is the way to go for many startups and small businesses. Today's technology allows you to connect from anywhere over the internet and run your business. Employees, customers, and suppliers can all stay connected virtually.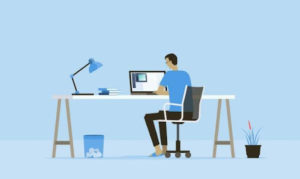 Along with rent, running an office also comes up with other utilities and overhead costs. These expenses can easily be avoided by allowing your employees to work from home. In the long run, it can save you plenty of money that can be allocated elsewhere. 
Once you have established your businesses and begin generating recurring profit, you can move into a commercial office. 
2) Use open-source software
Open-source software are created by volunteers for public use. In most cases, they are free to use or are less costly than commercial software. You can easily find bookkeeping, POS, and accounting software on the internet. Do keep in mind that these software may not have official support included, and you might have to resort to community forums for solutions. 
Open-source software may not be the permanent solution for your business needs. However, they can drastically bring down costs. Get started with open-source and gradually switch to other paid options when you can afford them. 
3) Hire independent contractors
You might have plans for a large workforce at some point in your business. However, hiring independent contractors at the start can save you plenty of money in terms of employee benefits. You can also outsource some work to freelancers or companies. Platforms such as Upwork and Fiverr have talented individuals you can trust.
If you need to hire someone full-time, consider giving them some stake in your company instead of a large salary. You can also look for fresh graduates looking for experience to work with you. 
4) Purchase second-hand equipment
It could be tempting to buy new machinery and other equipment for your business, but it can cost you a fortune. One of the best cost-cutting strategies is to buy used pieces of equipment that are still in excellent functional condition. 
You can contact the wholesale markets or large companies in your industry to lease or sell the accessories at a discount. Make sure to negotiate the price best you can and carefully assess the condition of your purchased goods. 
5) Negotiate with suppliers
When dealing with suppliers, your negotiating skills might come in handy. Ask for a discount, and you might be surprised to see how eager suppliers are to negotiate. You can also make deferred payments to save your capital from exhausting. 
Another way you can bring the cost low is to buy goods in bulk. It can help you get additional discounts on your purchase. However, ensure the items won't expire, and you have enough storage capacity to store them. 
6) Use of bartering
Approaching other businesses with a bartering arrangement for goods and services may cause your expenses to shrink. Bartering means offering service for a service in return without any cash involvement.  
Many startups are open to connecting with others to bring their expenses down. Contacting them can help you save capital and also establish a business network. 
7) Stay on top of cash flow
A simple accounting program can brief you with the daily financial reports of the business. Track the inflow and outflow of the company and keep your business organized. A dozen of helpful apps and software can assist you in that regard.
Keep a close eye on cash receivables and ensure your payments are on time. If payments are late, you will struggle to maintain operating expenses. Consider making strict deadlines with your clients or even ask for some amount upfront. 
Regularly follow up on your late payments and always have some cash in hand. 
Final thoughts
As a startup, you cannot afford to lose your money since it will hinder growth. Planning is the key to success. Therefore, you should plan your budget, strategies and calculate the risks before making a decision.