A workflow is a sequence of tasks that enable businesses to achieve their goals. This process ensures that the business process is streamlined and done. For businesses, this process can be time-consuming and overwhelming. It is estimated that 84% of small business owners work more than 40 hours per week, making them feel overburdened by the workload. 
To tackle this problem, almost 91% of businesses with more than ten employees use CRM. The number drops to 50% when it comes to companies with less than ten employees. CRM helps automate business workflow and saves businesses plenty of hours through increased efficiency. Having a CRM can prove to be a big step to growing your business. 
A CRM takes on the redundant aspects of the workflow, which helps you prioritize other tasks. If implemented correctly, CRM will show a massive improvement in productivity, sales, and positive customer reviews. 
Without further ado, let's have a look at how you can automate your workflow using CRM software. 
1) Consider processes you need to automate
The first step will be to identify which functions of your business you need to automate. You might have the urge to automate everything, but it can prove to be a wrong decision since it will be costly and ineffective. 
The purpose of a CRM is to automate mundane tasks of the business. It is necessary to target the right areas with CRM. For instance, some of the aspects your sales team can choose are:
Email Writing and Templates

Lead assignment

Follow-up Emails

Voicemails

Scheduling meetings and appointments

Creating reports
At first, you will have to keep a close eye on how the implementation unfolds to identify which processes are worth automating. Setting a benchmark could be a way to see if it meets the standard. 
Your end goal will be to make more sales but to get there, the business will have to improve smaller milestones. Some key aspects you can measure are:
Sales team meeting quotas

Average conversion rates

Revenue over the week or month

Sales funnel

Number lead generations

Conversion rates
Tasks that aren't performing up to the standards should be removed after consulting with the sales team. Use the reports to decide what operations should stay and what should go. It is essential to realize that some automation processes can be ineffective, expensive, or impractical altogether.
For instance, you might be considering making cold-emailing automated. It will help you save plenty of working hours which could be invested elsewhere with better conversion rates. However, it would be wise not to automate a process that is in a later stage and has a high production rate. 
2) Improve everyone's performance 
The implementation of CRM must benefit every employee rather than just a few. To accumulate growth, everyone should possess the tools they need to succeed. 
When creating a workflow, you have to address all the departments in the business. For instance, sales and marketing should complement each other to generate higher conversion rates and more happy customers. 
A way to boost performance is by communicating with team members to discuss the automation of the workflow. A few of the things you can ask them can be related to:
The biggest challenge they face

Accomplishments for the month

Changes they want to see in the workflow

The resources they need to succeed

Aspects that they would like to remain the same
After analyzing the responses, eliminate the workflows that are a waste of time. Doing this will help you create a better and automated workflow. 
3) Test, examine and put it all together
By now, you have identified your goals, tasks, and the support team to assist you. It is time for you to roll out the testing phase for the CRM. Make sure to keep a close eye on your workflow and figure out whether it is making a difference in terms of conversions or not. 
Testing and auditing is common practice that helps you achieve a perfect and efficient setup. You may need to introduce new changes to evolve and keep things up-to-date. 
Once you're through that phase, it is time to put it all together. In the end, your automated CRM workflow might look like this:
Schedule

: Create schedules for the recurring tasks

Actions

: Formulation of steps to complete the task

Scoring rule

: Create a system that prioritizes important tasks 

Document:

Make a blueprint for your CRM system

Case escalation

: Ensure to implement which cases are transferred to the operational hierarchy. 
Let's have a look at case studies, which will show you how businesses are automating workflows.
Case study 1: Increasing conversion with quick communication
The visitors that visit your site are your potential customers, and their interest needs to be captured before they leave the site. Businesses use web forms to encourage visitors to sign up for newsletters and updates. This part is crucial since it collects their name, email address, and on occasions, phone numbers. CRM stores the data and notifies the sales team. 
Using the contact information, the sales team gets in touch with the lead through a call or an email. The lead's response is then kept in the records using CRM to determine their interests and store personal information such as address. 
MIT research shows that if you don't approach a lead quickly, the chances of their conversion become 21 times less! 
Case 2: Increasing conversions with follow-up emails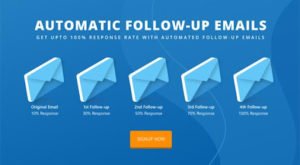 Sending follow-up emails has been one of the most effective ways to reach out to potential customers. Most websites ask for email addresses before they let users access their content. It is a great way to create an email list for newsletters. 
In an email campaign, the chances of lead conversions are less since it requires consistent effort to convince. To save time, the sales team often sends follow-up emails and monitors them with the help of a CRM. 
Ensure that you experiment with your emails and keep an eye out for subject lines that work. With email automation, your sales team will enjoy better efficiency and have more time to work on other prospects. 
Final Thoughts
Most businesses are reluctant to see the bigger picture. A CRM can offer you more than just increased efficiency. With CRM automation, your business will have a better workflow, along with increased productivity and conversions. CRM automation also offers you the freedom and flexibility to make the workflow that works best for you. 
Now, it's time to get your CRM and get started with automating your workflow, and enjoy numerous perks of the CRM software.