Sale is a long process that is spread over different stages. Each of those stages directly has an impact on customers' behavior. Knowing each step will help you create a better sales funnel and thus increase your sales. Businesses spend a hefty amount building an optimum sales funnel since it helps improve lead conversion rates. 
Building a sales funnel is one of the essential aspects of your business, so it is encouraged that you know how to create a sales funnel. 
What is a Sales Funnel?
A sale funnel is a visual representation of steps that an individual takes before a purchase. There are usually several stages in a sales funnel but commonly consist of four parts: 
Awareness

: The first stage is where the prospects discover your brand. It can happen after coming across a social media post, Google search, or a word of mouth. It enables them to be familiar with your business and what you offer. The awareness stage focuses on customers visiting your site and engaging with the firm. 

Interest

: At this stage, the consumer is already exploring the best solution that best suits their problem. Keep in mind to provide them helpful content that they are looking for. Be careful not to push for a sale since it might drive the prospect away. Instead, give all the information they need and offer help any way you can. 

Decision:

At this stage of the funnel, the consumer is ready to purchase. They might have considered a few options, so it is time to make your best offer. It could be a discount voucher, free shipping, or an exclusive offer. Make sure to make it lucrative and intriguing that the prospect buys from you. 
Action: This is the bottom of the sales funnel where the prospect has turned into a customer. However, it doesn't mean the job is complete. You will still have to interact with them and focus on customer retention. You can thank them for the purchase, encourage them to give feedback, and even offer 24/7 customer support.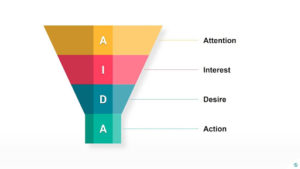 These steps can vary according to a business's sales model. 
How to create a sales funnel in 6 easy steps from scratch: 
1) Analyze your audience behavior
The more you know about your audience, the better you can design your sales funnel. The sale funnel is specially designed for the targeted audience that is a good fit for what you sell. 
Creating a buyer persona will also help you go one step further with competitors. Understand your audience's goals, objectives, behavior, and demographic information. It will help you to map out their journey and craft targeted content. 
Start creating surveys and analyzing social media to uncover insights and collect valuable information. 
2) Capture the audience's attention
The next step is to create content that will grab their attention. Start rolling out relevant content through your social media platforms. Post blogs, videos, and pictures along with other types of content. 
Another route could be to spend cash and run an advertisement campaign to inform the masses of your product. You can run a targeted ad campaign on social media platforms like LinkedIn and Facebook which have millions of users.
3) Build an optimized landing page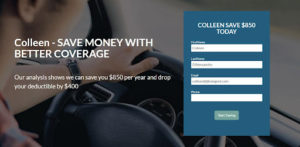 Your advertisement and content have to lead your prospect somewhere. Ideally, it should lead to a landing page with an exciting offer. Your focus should be on creating leads rather than sales, and from then on, divert your focus towards the next step. 
An optimized landing page has features such as: 
An intriguing and powerful headline

Usage of strong visual pictures and fonts to strengthen communication

Clear and prominent call to action

Testimonials and reviews to build trust

Consistent branding and relevant content

On-page SEO optimized content
4) Drive traffic to the landing page
When the landing page is complete, it is time to promote it to drive traffic and create sales. Some of the ways you can use to increase traffic are:
Placing banners on your site

Creating blog posts and guest posts

Sharing content on social media channels

Sending emails to subscribers

Running ads across different platforms
5) Run an email drip campaign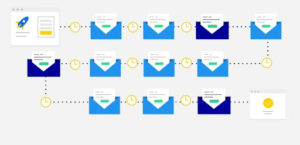 Creating leads is only half of the work. Focus on creating targeted content to push your leads down the funnel. With a drip campaign, you can easily achieve that goal. Stats show that these campaigns can boost sales by 80% with a 33% decrease in cost! 
Drip campaign consists of sending a series of automated and timely emails to leads according to their preferences. One of the most common examples is sending a welcome email to your new subscribers with links to the latest blog posts. 
Likewise, when someone adds items to the cart but doesn't make a purchase should be sent a reminder email to complete their purchase. 
Make relevant content for your newsletter and send one or two emails each week. Educate them first and later make an offer to encourage them to take action. 
6) Keep in touch
After completing your sales funnel, don't forget about existing customers. Continue reaching out to them and make offers such as coupons and loyalty rewards. 
Example of a successful sales funnel: 
Netflix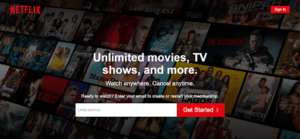 Homepage: The home page is lucrative and colorful. It encourages users to sign up with an email address to continue. Once you signup, it leads you to the first step, which is creating your password. 
Plan introduction page: Netflix doesn't directly take you to the pricing page to stop people from leaving the funnel. With this step, they give a quick reminder that there is no risk and users can cancel the plan anytime. 
Pricing page: On this page, you might notice how Netflix chooses the premium plan by default. It is a smart move, but users can also choose from diverse options within their budget.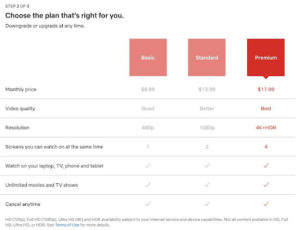 Payment method page: The platform collects your payments details, and upon verification, users start their membership plan. The lead is registered and will become a paying customer after 30 days. 
What makes this sale funnel effective?
Simple and easy-to-use

Proper guidance for visitors

Risk-free plans

Reliable product

Great UI which can be accessed from any device

Multiple payment methods
Final Thoughts
Remember that creating and optimizing the sale funnel will take some time. But it is necessary since the market is competitive. Even minor details such as fonts can impact your conversion rate, so be sure to focus on small things as well. 
Invest time to build a sales funnel that best represents your business and its customer base. Try out different things if old strategies don't work out for you and keep your funnel up-to-date with the latest trends.