The 9 best Proposal, CRM and Quoting Softwares (Update Sep 2021)
Version Update September 2021
There are no bad options when choosing sales automation software for your business if they help you win more sales and increase productivity. The decision relies on what is more suitable for your industry and sales activity. Are you more interested in automating proposals, or do you want to record and track prospect interactions?
There are many single-use software options out there, you could use PandaDocs to automate your proposal creation, and additionally, you could use SalesForce CRM to manage your leads, but the reality is that using multiple single-use software's is not practical. So why not choose the best software for your business needs, a solution that can manage prospects, automate quotes and proposals, ALL-IN-ONE?
Here is the list of the 9 best sales automation software (ALL-IN-ONE) that can help you manage leads and automate sales quotes and proposals.
1. Osmos CRM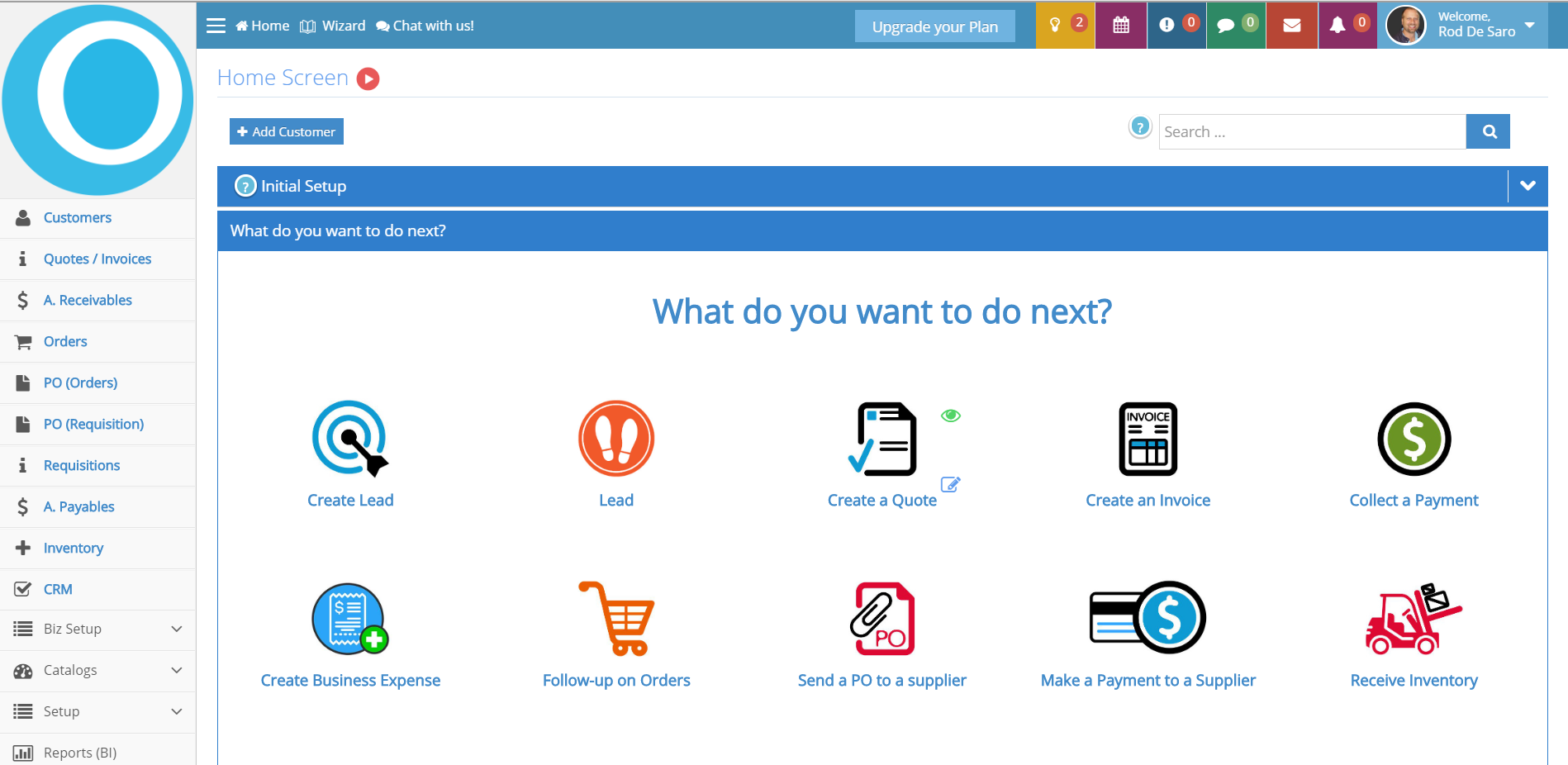 Osmos Cloud is a CRM and sales quote automation software for businesses that want to improve sales conversion. It guarantees that 100% of quotes requested are sent to clients creating more opportunities. But what sets Osmos apart it's what they call the eQuote.  The eQuote looks like an e-commerce site but made for requesting quotes; it replaces the static contact form allowing businesses to send quotes 10X faster and automates the follow-up. It includes a CRM that helps you manage all your leads.
UPDATE: Osmos is launching a v2 that will be ready for early 2022.
Top 5 Features:
eQuote form and automated follow-up
CRM with quoting capabilities
1-click quote-to-invoicing
Payment tracking
Service and inventory management
Out of the box, no deployment or implementation required
Best For:
Businesses that create and send a high volume of sales quotes and are looking to better manage and follow-up quotes.
Price:
Free to paid plans starting at $30 USD/month (3 users included). Free trial for 30 days.
Take away:
If your business is only looking to automate proposals, Osmos is not a good fit for your business, but if you want to automate and manage sales quotes, invoicing, collecting payments, and even managing leads with a CRM the Osmos is one of the best options.
2.SalesForce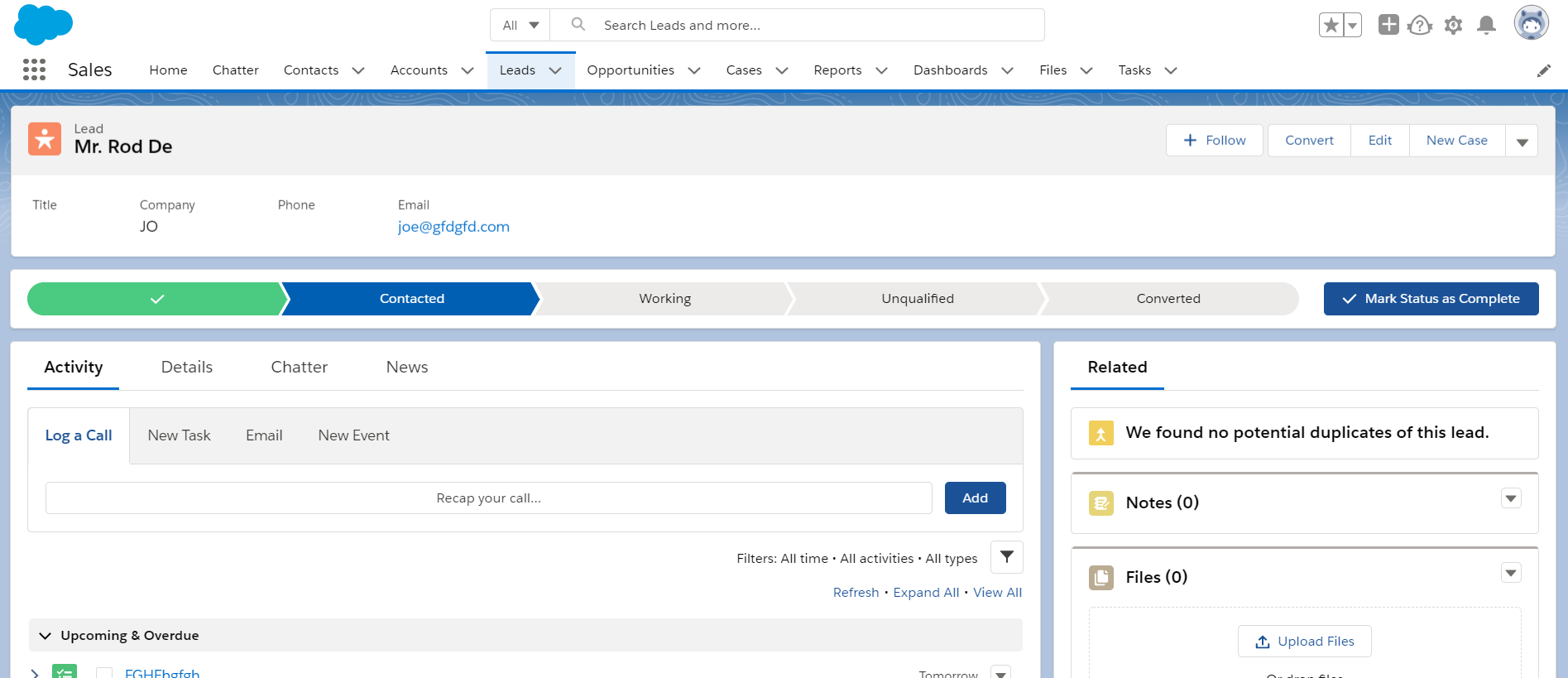 Salesforce is the leading CRM software for big corporations; they have been around for more than 2 decades. Their CRM help businesses manage leads and sales activities like registering emails, tasks and calendar entry, automatically having all lead data in one place.
Top 5 Features
Lead management
Prospecting tool
Pipeline management
Task management
Manage customer and sales details
Best for:
Business that are looking for reliable and pure CRM to manage prospects and leads.
Price:
Plans start at $25 USD/month per user. 14 days free trial.
Take away:
Salesforce is the leading CRM on the market with many possible integrations and functionalities like having a quote module. If you are a small business looking for CRM, there are more affordable and friendly CRM's on the market. If your objective is to automate quotes and proposals, then Salesforce is not the right solution for you.
3.QuickFlw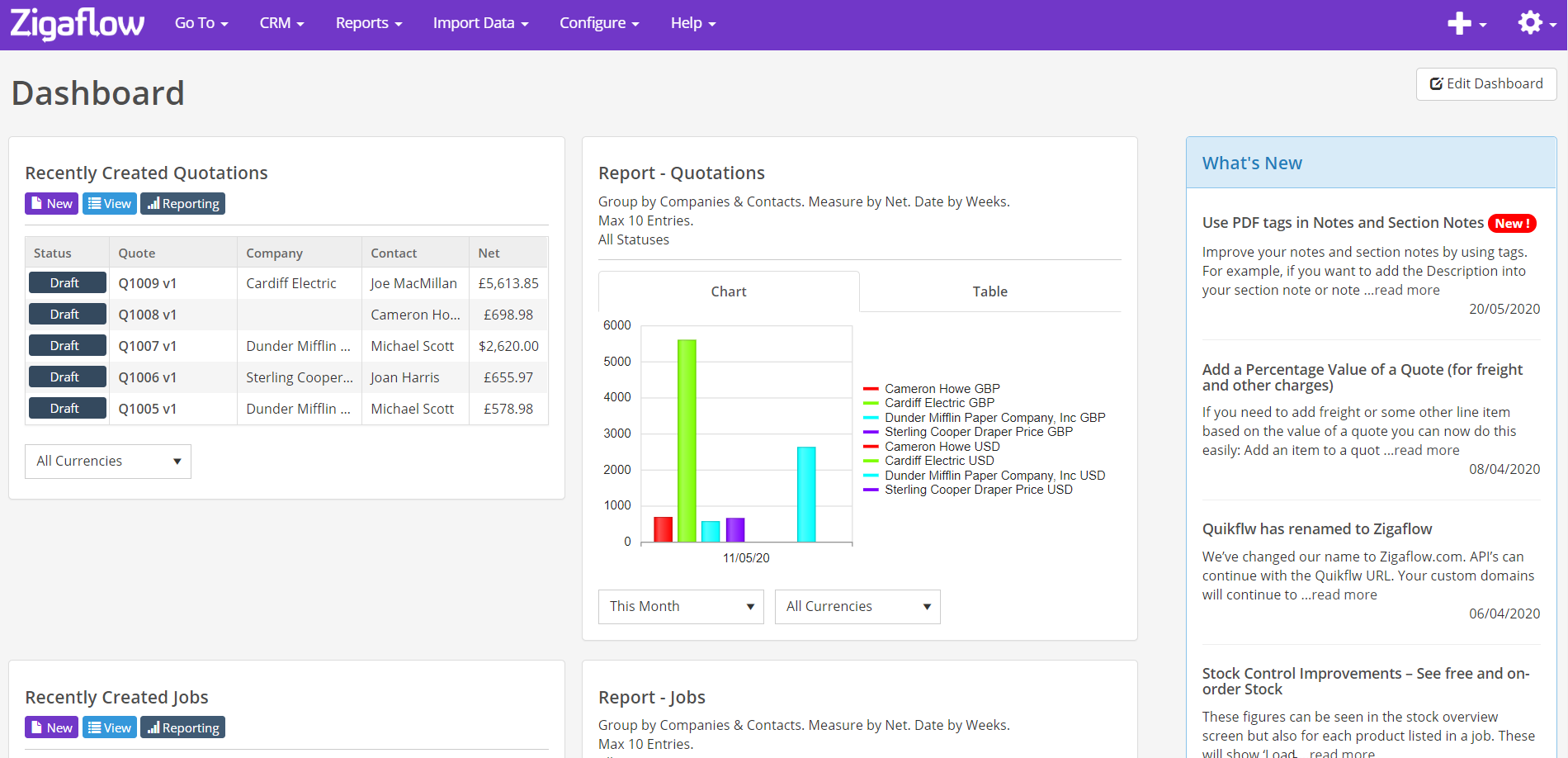 QuickFlw is a system for contractors that reduces administration tasks and improve the quality of the business operation (PSA software). It has many functions as an in-built CRM to manage customers; it produces quotes, create invoices, purchase orders and manage jobs.
Top 5 Features
Built-in CRM
Job management
Communication with clients
Job status
Quote customization
Best for:
Contractors and professional services that want to improve and automate business operations, jobs and projects.
Price:
Plans start at £39 GBP /month per user with an additional kickstart fee of £250 GBP. No free trial is available.
Take away:
If you are a contractor or someone that offers professional services and you need to manage your jobs, clients, quotes and projects, this tool can be handy.
4.Quotewerks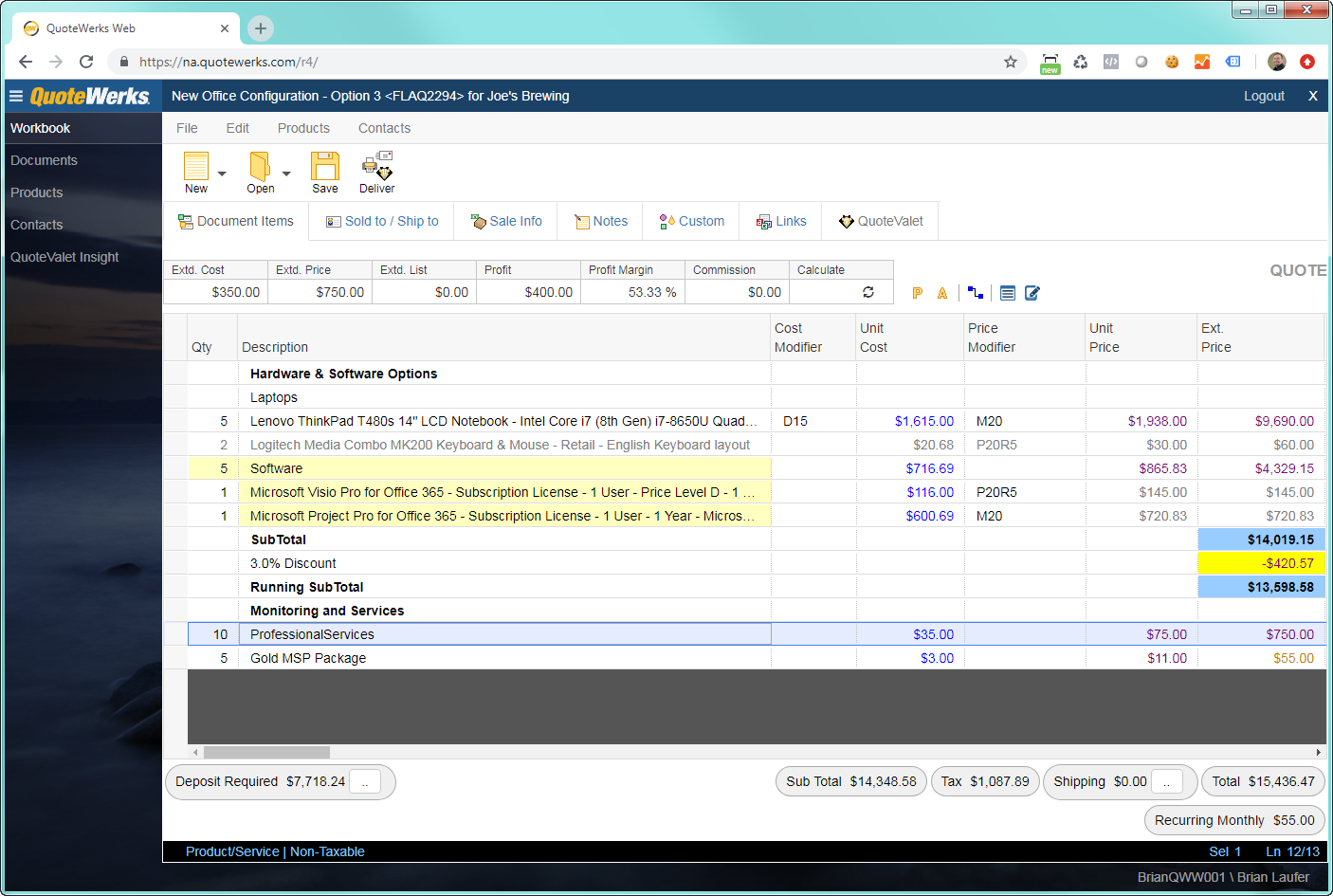 QuoteWerks is a quote-to-cash software (CPQ) that integrates well with CRM and invoicing software, closing the bridge between both types of software.  It is a hybrid solution that must be installed on a PC to work on the cloud. It offers multiple functionalities on products and services, like including spec sheets, create bundles, and if you have a complex system, it offers a quote configurator that guides the user through the sales process. It offers other functionalities like closing orders and creating a PO for suppliers.
Top 5 Features
Branded quotes and proposals
Integrations with CRM and invoicing software's
Reduce errors and misquotes
Pricing management
Pricing and cost calculations
Best for:
Companies that use CRM and invoicing software and are looking to have a CPQ solution that integrates with their current software.
Price:
Plans start at $15 USD/month per user. Free trial.
Take away:
If you do not need a cloud solution then QuoteWerks is a valid option. It has been around since 1993, helping businesses with their CPQ needs. It has a strong clientele base, good reviews and integrates well with CRM and invoicing solutions closing the bridge between them.
5.Qwirl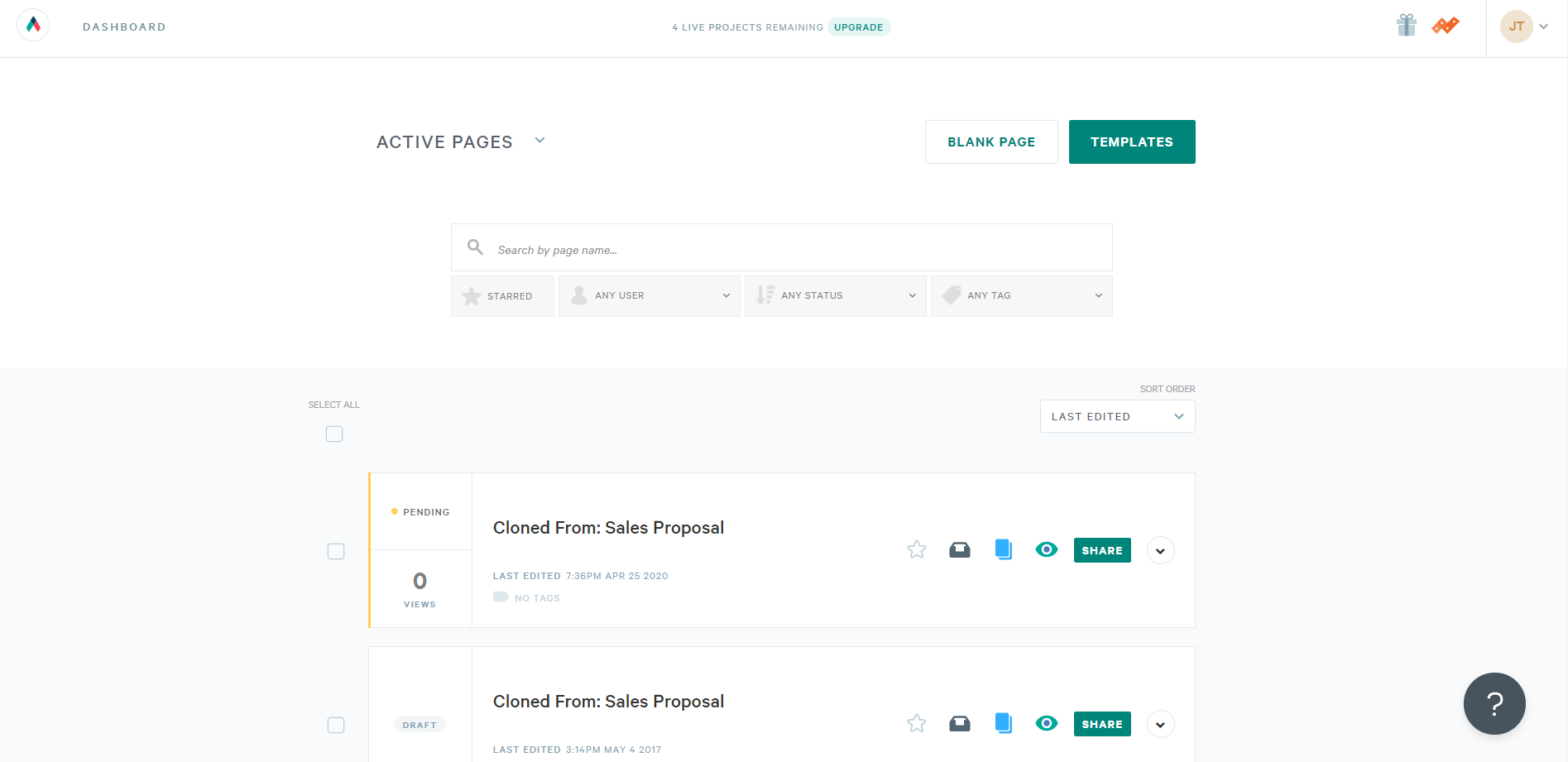 Qwirl is a proposal creation software that replaces the common PDF proposals by making them web-based, viewed on a browser. Creating proposal templates is easy and versatile with the use of blocks that can be mix and matched between different proposals. Qwirl analyzes and tracks how clients view the proposals and notify the user when a proposal is viewed. It offers a pricing block to showcase your offer.
Top 5 Features
Easy template design
Upsell with interactive pricing
Integrates with CRM and accounting tools
Multiple proposal sharing options
Proposal and sales analytics
Best for:
Businesses that create long proposals as a marketing tool and where design is important.
Price:
Plans start at $75 USD/month and include 3 users. 14 days free trial.
Take away:
Qwirl interface and the way you design proposals with blocks is intuitive for users.  Having said that, it is necessary to integrate a CRM to Qwirl to customize the proposal for the client. Same thing if you are looking to create invoices.
6.PandaDoc
PandaDoc is a well-known proposal software that simplifies the process to create, send, track and eSign sales documents. It uses pre-built templates and customer data IMPORTED from your business CRM. It offers a basic quoting and contract solution in where you can have items catalog, authorize contracts and collect payments with the Stripe integration.
Top 5 Features
Content and image library
Integration with CRM
Document analytics
Approvals with e-signature
Document themes
Best for:
Businesses that create proposals but need some quoting functionality to be included in the proposals.
Price:
Plans start at $29 USD/month per user. 14 days free trial.
Take away:
PandaDoc works like a CRM but for proposals. You can view each proposal as a pipeline or workflow, starting from a draft and passing to a completed and ending on a paid proposal. It has a little of everything, but at its core, it is a proposal software.
7.Bitrix24
Bitrix24 offers a set of tools that improve collaborations and communication by unifying projects, tasks, contacts, files and messages.  It has a CRM, quote functionality and orders module between many other features like making calls, create a company structure, email marketing campaigns and much more.
Top 5 Features
Task automation
CRM document builder
Bitrix Webmail
Contact center
Bitrix Online store
Best for:
Businesses looking to centralize and improve collaboration and communication within the team
Price:
Free to paid plans starting at $49USD/month (5 users included). Free trial for 15 days.
Take away:
Bitrix is like a Swiss knife, with so many bells and whistles. Their core is a CRM that can be used as a project management tool, eCommerce builder, communication tool, storage and much more. It offers so much that it can be overwhelming.
8.Quotient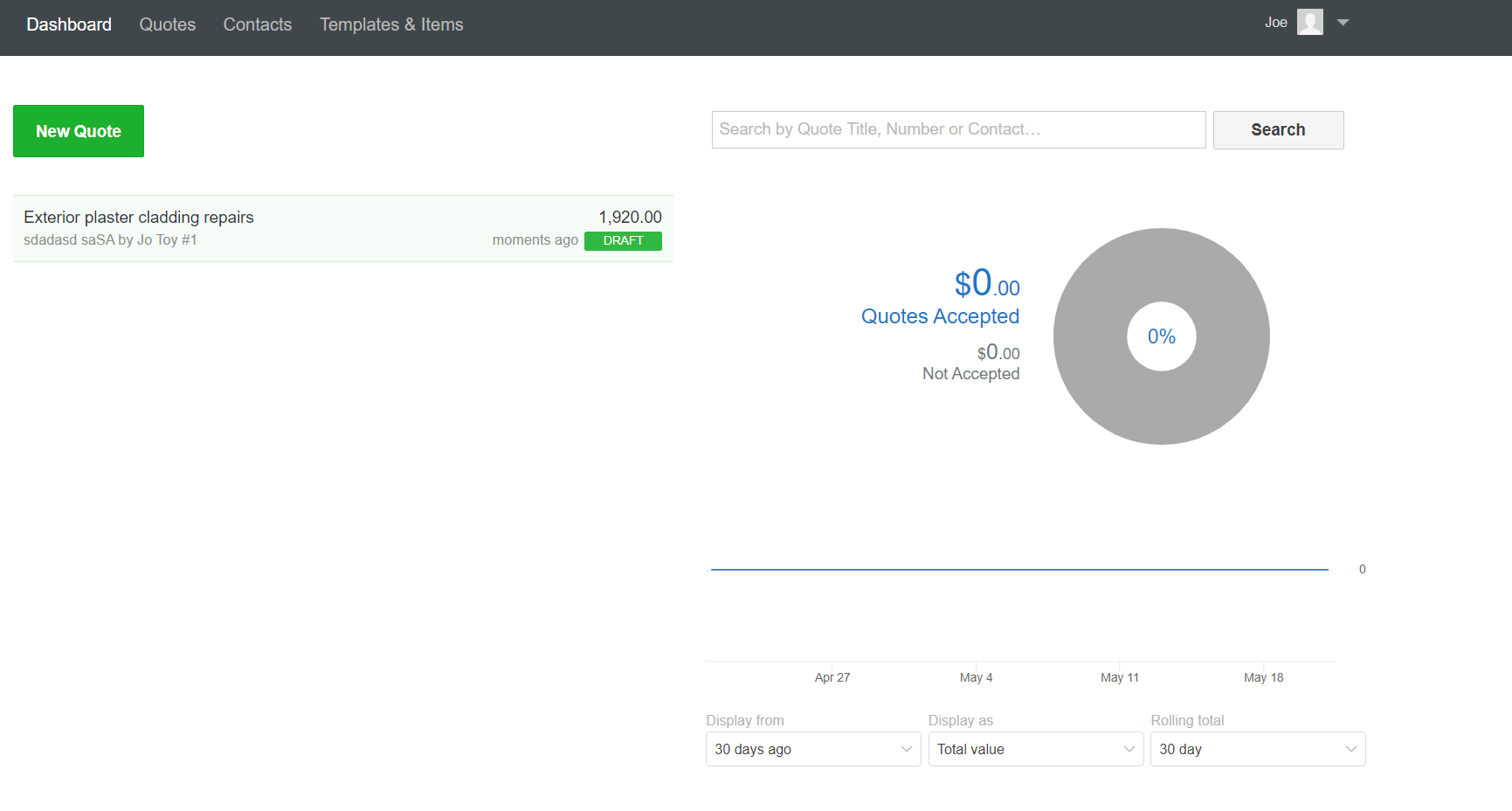 Quotient is a quoting software for individuals and small businesses that want to manage quotes in one place. It automates follow up, let clients ask questions directly on the quote and capture leads online. You can integrate your accounting software to create invoices.
Top 5 Features
Automate follow up
Direct communication with clients
Learn if the client opens the quote
Capture leads online
Collect feedback and reviews
Best for:
Individuals and small businesses looking for a simple quoting software on the cloud
Price:
Plans start at $25 USD/month per user. 30 days free trial.
Take away:
Quotient is easy to understand and straight forward to use. It is a software that creates simple quotes using proposal templates that clients can open on a web browser.
9.Jobber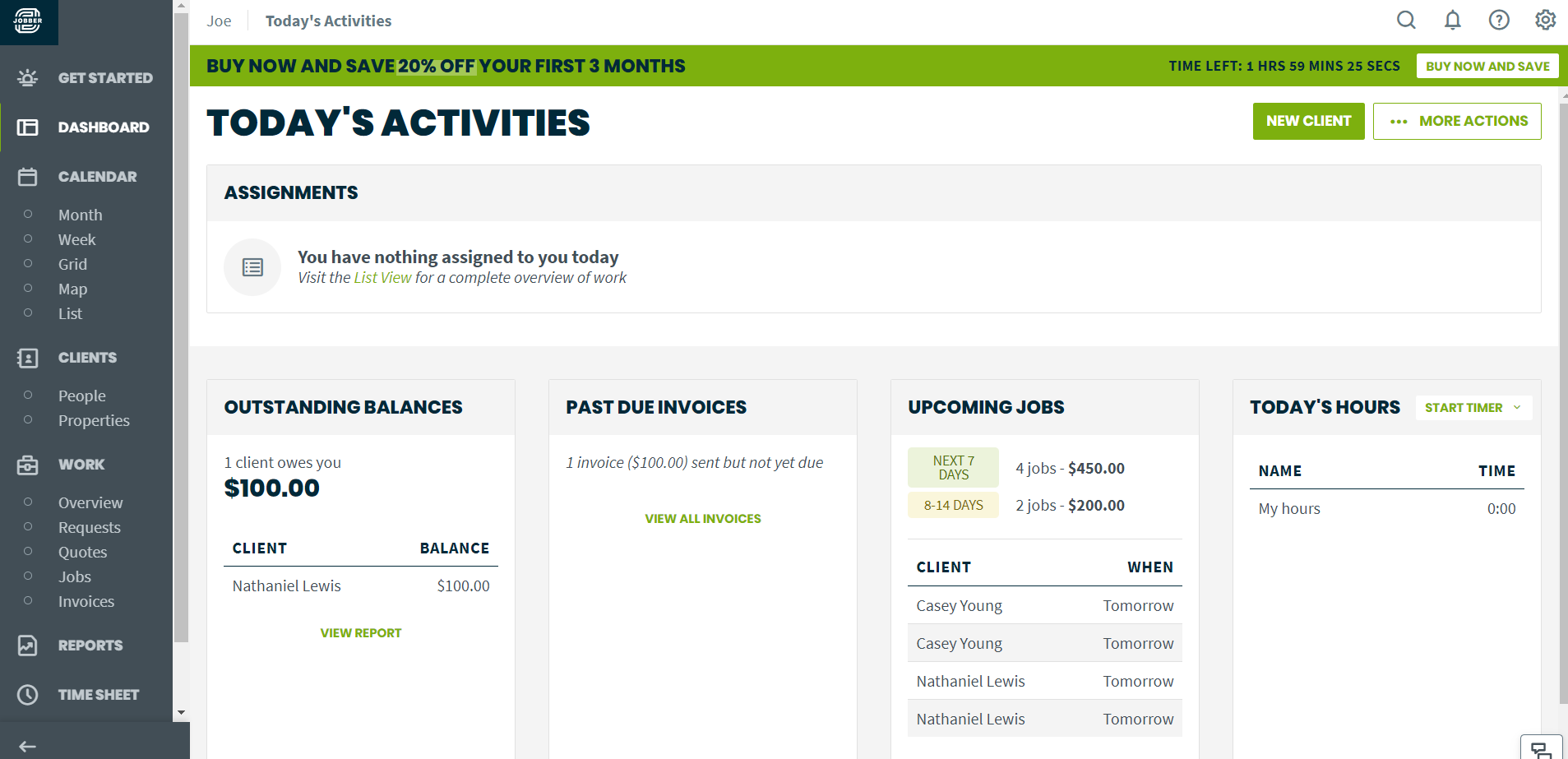 Jobber helps small home services businesses organize their entire operations, from scheduling jobs and managing their crews, to invoicing customers and collecting payments. It has a mobile app and can be integrated with accounting, mail marketing and other software.
Top 5 Features
Built-in CRM
Scheduling and dispatching
Online booking
Mobile app
Job forms
Best for:
Small home services businesses looking to manage their operations on a single software
Price:
Plans start at $35 USD/month per user. 14 days free trial.
Take away:
If you have a small home service business Jobber is the perfect solution for your business. It helps you manage your crew, appointments and jobs in a simple way. Your whole sales cycle can be handled in here.
The choices of software depend on the type of business and what you are looking to achieve. As you have seen, there are multiple solutions that offer diverse approaches to quotes, estimates, and CRM.
It is only a question to test them until you find the most suitable for you!